Bioclear Matrix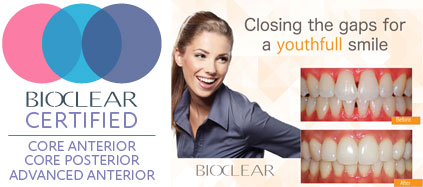 Odontology, dentistry, and endodontics are all dental fields that are constantly changing. Every day there is new technology. That way, dental professionals can guarantee a better diagnosis and treatment for their patients. One such technology is known as "Bioclear."

In 2007, dentist Dr. David Clark founded Bioclear. He always had the vision of creating a new product system that involved modern methods for restorative dentistry. After years of giving conferences about the importance of using microscopes in odontology, he decided he wanted to make a change. Bioclear Matrix represents growth in dentistry, always offering more affordable options while giving excellent results.

They offer high-quality composites with the Bioclear Matrix method. In addition, they have ways to educate dental professionals with the Bioclear Matrix Learning Center, where the different courses allow dental professionals to be qualified for the method. If you are interested in the Bioclear method, we here at Nancy Shiba, DDS can help you.


Is Bioclear Matrix For Me?

If you need restorative dentistry and want the best and more advanced treatments, then Bioclear Matrix is for you. One of the central objectives behind Bioclear Matrix is to offer the best dental composites with more lasting results – while also looking aesthetically good.

What makes Bioclear Matrix different and innovative is that Bioclear utilizes heated composites as an alternative to crowns, traditional veneers, or bonding. Bioclear products are transparent and fill the dark gaps in between your teeth. It is a safe and less invasive choice compared with other restorative options like dental implants.


Can Every Dentist Perform The Bioclear Method?

Bioclear Matrix offers the newest and most advanced products and technologies developed from traditional anterior and posterior composite preparation. Not every dentist is trained in these methods. That is the main reason why not every dentist can work with this method.


How Do I Know Which Dentists Can Use The Bioclear Method?

Bioclear Matrix offers different courses and resources for every dental professional that wants to work with the Bioclear Method. If a dentist has completed one, two, or more courses, it is a step closer to becoming a Bioclear Matrix Certified Doctor. In any case, Bioclear does not affiliate in any way with those dentists.

On the Bioclear Matrix official page, there are different doctors with Bioclear Matrix certifications. The certification allows them to treat patients with this method. They also allow you to enter your city or zip code so you can search for any dentists near your area. A "Bioclear Matrix Certified Doctor" is someone who has learned the Bioclear Matrix method through the Bioclear Matrix Learning Center.

They can perform restorations with those products, but even then, they can specialize in one specific part of the mouth. For example, some doctors are certified in the back of the mouth (posterior), front of the mouth (anterior), or the spaces between the gumline (black triangles). All of those certifications include the knowledge of performing procedures relating to cosmetic dentistry.

You can schedule an appointment with us to see if you are a candidate for this option. Please call us at (669) 306-7669 to reach us here at Nancy Shiba, DDS today.